The Fierce Clarity tribe is headed to Arizona for the Fierce Reset: Weekend Edition! Sedona is one of those places where people light up just talking about it — try it! Ask anyone who has ever been! When seeking locations for Fierce Reset wellness retreats, we are always looking for places with more than meets the eye. We look for places with a certain je ne sais quoi that provides something deeper for our guests. We've found all that and more in the Kimpton Amara Resort + Spa in AZ! Check below to learn 5 Magical Things about Sedona!
1. Sedona is A Spiritual Place / Energy Vortex
Sedona is home to four major energy vortices. A vortex is a special location on earth where electromagnetic energy is either entering into or projecting out of the earth's plane. It is believed that the vortex energy moves in a spiral direction and this is evidenced by twisted trees in Sedona at these sites. These vortices are believed to hold potent, transformative spiritual energy and many report being able to feel the energy throughout Sedona. Energy vortices are found at sacred sites including – the Great Pyramid in Egypt, Machu Picchu in Peru, Bali, Stonehenge, Uluru/Ayers Rock in Australia, etc. 1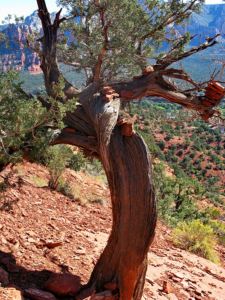 2. Must-See Red Rocks
The Red Rocks we see today were formed several million years ago when the uplifting of the Colorado Plateau that created the Grand Canyon also caused water to carve out Sedona's red rock, cake-like layers.2 Currently, Sedona is considered to be a part of the Colorado Plateau and is in the process of making mountains, raising an average of one inch every 60-80 years!2 These Red Rocks can be viewed from our yoga + meditation room at the Kimpton Amara Resort + Spa.
3. Art Galleries + Shopping
Sedona is an arts and cultural mecca, and we put you right in the middle of it. Countless galleries feature works from diverse artists, including surrealist painter Max Ernst and Joe Beeler, who co-founded the Cowboy Artists of America in a little bar half a block from Kimpton Amara Resort & Spa.3 Additionally, a short walk from the hotel leads you to Uptown Sedona, a shopping plaza filled with eclectic shops and varied dining — all while surrounding you with outdoor sculptures, artsy fountains and floral blooms.4
4. Rich Indigenous People History
The Native American influence on Sedona is unmistakable and profound. Visitors traveling to Sedona may find remarkable traces of these first settlers of the land in everything from remote rock paintings to present-day works of art. 5 The area is home to many indigenous landmarks and artifacts just waiting to be explored. Much of Sedona's natural landscape remains the same as when these first peoples were living in the area, allowing you to step back in time and imagine life many moons ago.
5. Outdoor Adventure
Claiming over 100 hiking trails within a 20-mile radius, Sedona is a year-round natural playground begging to be explored. Sedona houses two state parks, four wilderness areas and nearly two million acres of national forest.6 Beyond hiking, there's golf, mountain biking, Pink Jeep tours, sliding down rocks and other open-air excursions that have your name all over them. Best of all, just a two-hour drive from Sedona lies the Grand Canyon, a true national treasure.
Sources
1. https://visitsedona.com/spiritual-wellness/what-is-a-vortex/
2. https://redrockscenicbyway.com/
3. http://www.amararesort.com/sedona-az/arts-culture/
4. http://www.amararesort.com/sedona-az/shopping/
5. http://www.arizona-leisure.com/native-american-history.html
6. http://www.amararesort.com/sedona-az/adventure-vacations/